Missions
Jesus' final command while still on earth, The Great Commission, states, "Therefore go and make disciples of all nations, baptizing them in the name of the Father and of the Son and of the Holy Spirit, and teaching them to obey everything I have commanded you. And surely I am with you always, to the very end of the age." (Matthew 28:18-20).
So what do we do to follow the scriptural commands set forth by Christ? We share the Gospel. Read more…
Here is more information on some of the missions we support. We would love your help in praying for their work. If you feel led to get more involved in these ministries, more information is available on the links to their website, or call the church office at 217-895-3930.
T
he Community Clothesline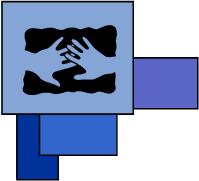 Oblong Children's Christian Home is a ministry of Christian Churches and Churches of Christ to abused and troubled children who are 5 to 17 years old, providing them
God's unconditional love,

a stable, structured environment, and

family-style group home.
Our goal is to reunite the children with their families. For most families the goal is for the child to return home after making significant changes. The length of stay is determined by how long it takes the child and his/her family to achieve the goals set at placement. We work with parents and entire family units by teaching parenting skills and providing counseling.
Neoga Community Food Pantry
The food pantry serves the community within a ten mile radius of Neoga. Volunteers prepackage food for various family sizes; the food will help sustain families for a month. One of the distributions is on the first Thursday of each month. The second distribution is the third Thursday of each month if fresh food is available from Eastern Illinois Food Bank in Champaign.
The food pantry receives monthly food donations from several area churches. All volunteers are from various churches in Neoga who faithfully give of their time.

H
e
artland
Christian Village
Heartland Christian Village in Neoga is a Christian-based, continuous care community, which serves as a retirement facility, long-term care facility and short-term rehabilitation facility. It strives to "honor God in providing security and peace of mind for our residents and their families." Heartland Christian Village is a faith-based organization and part of Christian Homes, Inc. The mission of Christian Homes is "to honor God by providing a continuum of excellent care and support services, primarily for older adults.
If you are interested in participating in volunteer opportunities at Heartland Christian Village in Neoga, please contact Heartland Christian Village at 217-895-2665, the FCC Neoga Missions Committee, or go online to download a volunteer application at www.christianhomes.org
First Christian Church volunteers at Heartland from 9am-12:30pm the first Tuesday of each month.
Oil Belt Christian Service Camp
Flora, Illinois
Many of our youth enjoy spending a week (or more) at Oil Belt every summer. Camps are offered for 2nd graders – high school students. Younger age groups start at overnight camps, with week-long camps for older participants. Specialty camps such as Music Camp, Athletes Camp, Wilderness Camp, and Bike Camp are also offered. Our church will pay all but $20 of the camp fee per child. Oil Belt focuses on teaching salvation through Jesus, Scripture memorization, worship time, missions' support, and biblical teaching in addition to providing recreational activities and a chance to make new friends! Adults can enjoy Oil Belt as well during one of their many annual retreats for men, ladies, families, singles, and seniors.